Complimentary Consultation or 2nd Opinion
Includes:
• ​​​​​​​Exam
• Full X-Rays
• Digital Smile Photo Session
• Private Consultation with the Doctor
Teeth Next Day®
Zirconia Implant Bridge for a
Lifetime of Healthy Smiles
Is tooth loss destroying your confidence?

Are you afraid to share a smile with the ones you love?

Are you avoiding social and professional situations, because you're ashamed of your teeth?
​​​​​​​
Tooth loss may be an unavoidable part of your life, but it is not one that you have to live with. Bring back your smile and self-confidence with Teeth Next Day®
I had been struggling for years with ugly teeth that constantly gave me problems. I really can't believe I waited so long to resolve my dental issues, but I was afraid, so I just stayed away. Finally, I learned about Teeth Next Day and how they use IV Sedation for treatment, so I went to their office for a consultation. After meeting Dr. Ajmo and his team, I immediately felt more relaxed about the entire process, so I move forward with it. I felt no discomfort during the procedure and I really didn't suffer afterwards. Now I can smile without shame and I feel so much better about myself every day. Thanks so much to the entire team at Teeth Next Day
Susan - Teeth Next Day® Patient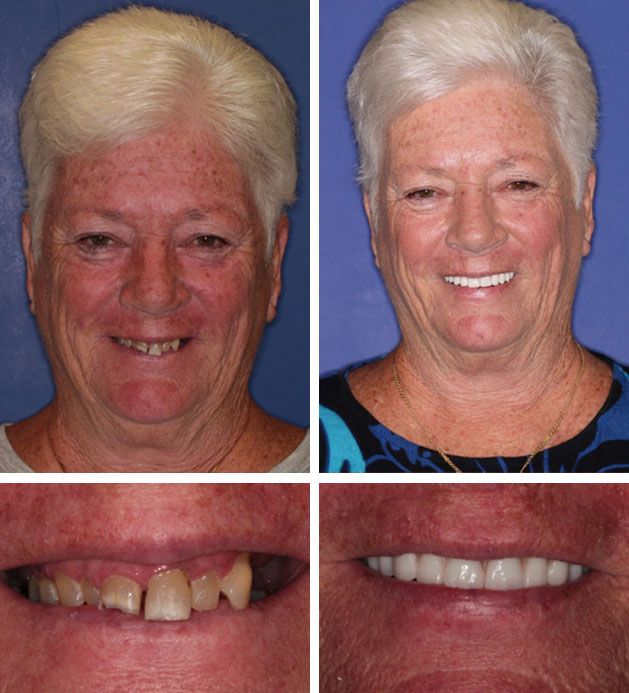 Zirconia dental restorations have been taking the world by storm over the last five years, providing life-changing dentistry for patients in South Florida. Our Teeth Next Day® treatment uses zirconia bridgework permanently attached to dental implants, combining strength, beauty, and durability to provide a dental restoration that beats any other available today.
Zirconia
The most aesthetically beautiful and strongest material for dental restorations
Most conventional implant-supported bridges are made from acrylic, which is prone to cracking, chipping and staining, severely compromising both the function and aesthetic appearance of the teeth.
Teeth Next Day* has a number of advantages of other dental implant designs. When you compare Teeth Next Day to other options like "All on Only Four 4", "Teeth in only a day" and "Done quickly in one", it's a clear choice Teeth Next Day* is the best design in permanent teeth replacement. All of the others offer ONLY ONE SOLUTION to restore your mouth and your smile. Do you think every single person needs exactly the same treatment plan?

is the only Dental Implant Solution
that provides several options for Permanent Teeth Replacement.
Teeth Next Day®
vs
Other Implant Centers
Customized treatment for each individual patient

Exact same lieatment for every patient

Choice of options for permanent teeth

Only one option available

Custom designed teeth just for you

Many centers use premade teeth

Quality materials that last decades

Teeth made of acrylic which stain & crack

6 dental implants per arch in most cases

Only 4 implants in most cases

American made Biohorizons Implants

Many centers use cheap foreign implants

Personalized attention to each patient

Like a factory lieating volumes of people quickly

We offer a 5-year guarantee

No guarantee
Acrylic Bridges Often Crack and Break with Time
​​​​​​​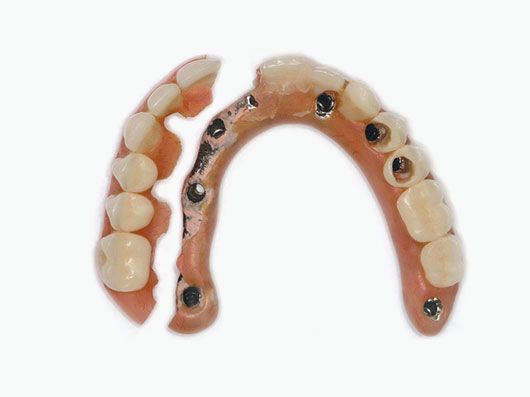 Teeth Next Day® Zirconia Implant Bridge will never crack, chip or break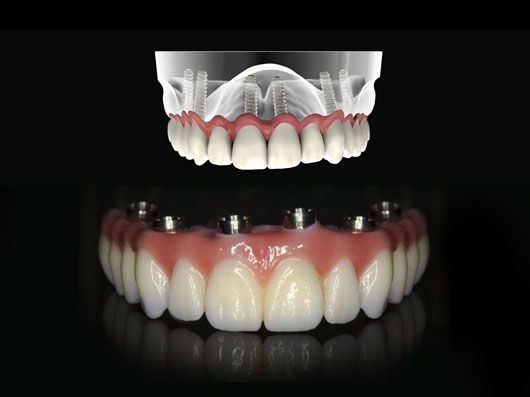 Invest in a dental solution that will keep you smiling for years to come
Zirconia is stronger than natural teeth and has a uniquely high resistance to fracture. It also has outstanding resistance to damage and discoloration, eliminating some of the key disadvantages of traditional acrylic dental bridges.
Not only is the zirconia bridge exceptionally strong, but it is also one of the most aesthetically pleasing restoration available in modern dentistry. With exceptional density, a perfectly smooth finish and choice of a wide range of stains and glazes, patients who choose the zirconia bridge can be assured that their new smile will be functional and breathtakingly beautiful for decades.
Zirconia is too rigid and heavy to immediately place on new implants, so an esthetic temporary is placed the next day after surgery and worn for three months allowing the implants to completely fuse to your jawbone. After three months, a cosmetic zirconia bridge is custom designed and fabricated in our specialized dental implant lab. If anyone is telling you they will give you a zirconia bridge permanently placed immediately after implant surgery, you may want to consider doing more research before undergoing this procedure.
Alan had older bridge work that was completely failing and none of his remaining teeth could be saved. He is an attorney who has always been energetic and outgoing, but he knew his teeth were unsightly. He also knew his advanced dental disease was damaging to his heart and his overall health. Alan wanted a healthy mouth and a dazzling bright smile to match his energetic personality. He also wanted teeth strong enough to eat a good steak. Dr. Ajmo performed upper and lower Teeth Next Day® with zirconia implant bridgework. Alan's teeth never come out and he can eat whatever he likes. Now he smiles with confidence.
Dr. Ajmo did such a wondering job replacing my outdated work. My new smiles makes me feel absolutely beautiful!
Alan - Teeth Next Day® Patient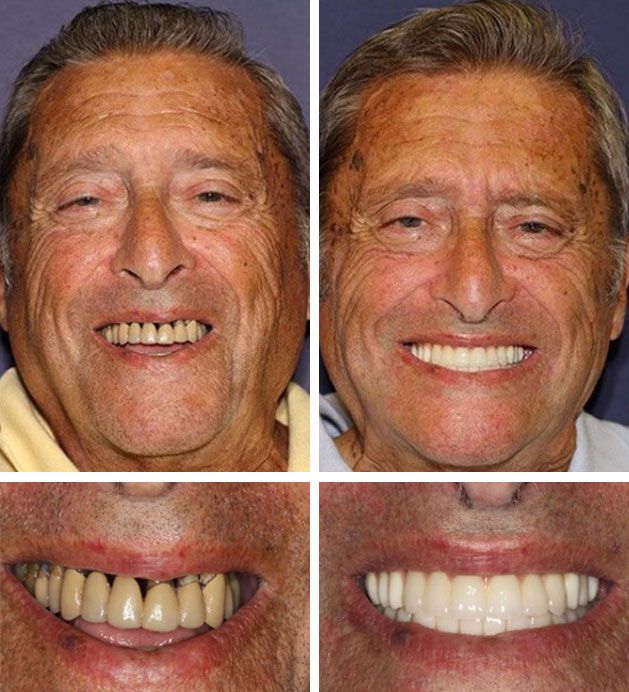 Invest in a dental solution that will keep you smiling for years to come
By choosing a Zirconia Implant Bridge you are making a valuable investment in the future of your dental health. The Zirconia Implant Bridge is the only total teeth replacement design with a published 5-year longitudinal study that demonstrates the 100% success rate of the implants and bridge.
With unique benefits and unrivaled results, it is easy to see why the Zirconia Implant Bridge is the strongest and most durable choice when it comes to providing exceptional quality implant-supported teeth that look, feel, and function like your real teeth.

is the only Dental Implant Solution
that offers Options for Permanent Teeth
Nanoceramic

Implant Bridge

Zirconia

Implant Bridge

Porcelain

Implant Bridge
5-6 implants

5-6 implants

6-8 implants

Attractive esthetics

Attractive esthetics

Premium level of esthetics

No temporary needed

Temporary teeth in 24 hours

Temporary teeth the same day

Permanent Teeth in 48 hours

Permanent Teeth in 3 months

Permanent Teeth in 3 months

Pink flange mimics gum tissue

Pink flange mimics gum tissue

No pink flange, only teeth

Slightly thicker than real teeth

Slightly than real teeth

As thin as real teeth

Some speech adjustment

Some speech adjustment

Usually no speech adjustment

Lightweight

Heavy

Extremely lightweight

Slight flexing while chewing

Extremely rigid

Moderately rigid
If you're looking for solutions to your dental problems and want to understand all your options, call us for a for a Complimentary Consultation. You'll be given the opportunity to ask questions and look for answers that best suit your needs. Teeth Next Day* is the only dental implant solution that give you options in permanent teeth. Call today for your complimentary consultation (561) 448-9800!
Complimentary Consultation
or 2nd Opinion
Includes:
Exam
Full Mouth X-Rays
Digital Smile Photo Session
Private Consultation with the Doctor