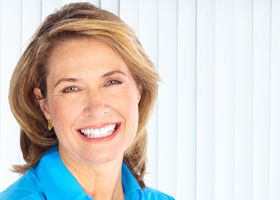 Teeth Next Day® is an innovative and all-inclusive complete dental implant supported tooth replacement treatment for those who suffer from missing, damaged, and extensively decayed teeth or failing removable dental prostheses. This remarkable and convenient tooth loss treatment option is available exclusively from Dr. Jay Ajmo of Teeth Next Day® in Palm Beach Gardens, FL. If you are missing many or all of your natural teeth on one or both jaw arches, then the Teeth Next Day treatment protocol can provide you with a permanent and fixed dental implant supported dental solution.

A flawed smile can cause discomfort and embarrassment in your personal, professional, and social life. Removable dentures and bridgework can become compromised by damage and can lose their proper fit and function over time. The Teeth Next Day Team and Dr. Jay Ajmo endeavor to ensure that patients are very well informed about all aspects of their treatment and are as comfortable as possible for the duration of their treatment. Dr. Ajmo and his talented and knowledgeable specialists and assistants firmly believe that everybody deserves teeth that they can be proud to display with a broad, unwavering smile. We encourage you to explore your options and to learn more about Teeth Next Day®; should you have any questions or concerns, please do not hesitate to contact our kind staff at our cozy and modern Palm Beach Gardens, FL office.
Safeguard Your Oral Health
Tooth loss is associated with a multitude of dental health problems, which include an increased risk of gum infections, receding gums, and even jawbone loss. When teeth are difficult to clean because of extensive tooth loss and decay, maintaining a strong oral hygiene routine can be challenging and plaque buildup increases. By restoring your smile to its former beauty with the incredibly beneficial Teeth Next Day® teeth replacement treatment, Dr. Ajmo can help avoid these oral healthcare complications. Another related benefit to Teeth Next Day® has to do with our use of Prettau® Zirconia in our permanent restorations, rather than inferior acrylic restorations. Prettau Zirconia is highly resistant to cracking, chipping, fracturing and staining in addition to resisting bacterial accumulation. Less trapped food and bacteria means a cleaner and healthier mouth, fresher breath, and less staining of the prosthesis. Just because you are missing most or all of your teeth, doesn't mean that your mouth is now impervious to dental problems. After extensive tooth loss, great care must be taken to preserve and protect the remaining elements of your oral health. Dental implant supported teeth replacement solutions can actively combat jawbone loss commonly associated with total or extensive tooth loss.

Another compelling reason that Dr. Ajmouses only Prettau zirconia for his final Teeth Next Day restorations is because this material is entirely and absolutely biocompatible. It used to be that dental implant supported bridges would come with a risk of rejection, because some patients suffered from allergic reactions to the acrylic used in other treatment protocols. Teeth Next Day® uses absolutely NO ACRYLIC in the permanent restorations which entirely eliminates the risk of allergic or adverse reactions and minimizes the risk rejection.
Enduring Long Term Dental Solutions with Teeth Next Day
Your Teeth Next Day® Dental Implant Bridge becomes physically and permanently connected to your jawbone through the placement of either five or six dental implants, depending upon which arch is being treated. Titanium dental implants are uniquely proficient at integrating with the bone structure of the mouth because of the bone-growth stimulating properties of the titanium material. During the recovery and healing period, after the implantation procedure is complete, the jaw will regenerate bone tissue through an ongoing, biological process called osseointegration. During this time, the newly created bone material will grow right up to the surface of the implant and thread tissue through the implant's porous surface, which entrenches and clasps the dental implant into the anatomy of the jawbone. As a result, patients enjoy lifelong stability and durability of an implant supported bridge that will never slip, slide, or lose support. Comfort, convenience, and permanence are the dividends that Dr. Ajmo's Teeth Next Day patients can expect from their wise investment in this exquisite and exclusive tooth loss treatment option. If patients only need one arch replaced, then they can take comfort in the fact that the reliance upon Prettau Zirconia for the final restoration results in far less wear on natural dentition than typical restorative materials such as porcelain. Be sure to view the Teeth Next Day FAQ page to see Dr. Ajmo's answers to some of the most common questions associated with this treatment protocol!
New Teeth in One Day, in One Location
Teeth Next Day® is a comprehensive restorative solution for patients missing many or all of their teeth that can return the natural brilliance and health to your smile in just one visit with Dr. Ajmo. The entire Teeth Next Day procedure takes place at Teeth Next Day® in Palm Beach Gardens, FL. The easy-to-finance and all-inclusive cost of the treatment includes in-office low-radiation CT scans, any necessary tooth extractions, anesthesia, surgical placement of dental implants, temporary replacement teeth, the Prettau Zirconia implant bridge, and much more. Don't let your missing or failing teeth deprive you of enjoying all that life has to offer! With the Teeth Next Day Dental Implant Bridge, your life will be transformed overnight and the feeling you'll have when smile in the mirror will remain with you – just like your new teeth!
Treat Yourself to a New and Beautiful Smile
Lost and damaged teeth can result in painful and costly oral health problems if left untreated for too long. The risk of serious periodontal infections, further tooth loss, and even jawbone loss only increases over time when missing and failing teeth aren't treated promptly. Dental problems and even removable dental prostheses can drastically diminish your quality of life and can even result in emotional distress in the form of anxiety, embarrassment, and extreme self-consciousness in social situations. If you are interested in learning more about how our exclusive Teeth Next Day® Dental Implant Bridge can bring the beauty and vitality back to your smile, contact us at our Palm Beach Gardens, FL office to schedule your complimentary consultation with Dr. Ajmo today!