Complimentary Consultation or 2nd Opinion
Includes:
• ​​​​​​​Exam
• Full X-Rays
• Digital Smile Photo Session
• Private Consultation with the Doctor
Trust a Board Certified Implant Surgeon with Years of Experience in Implant Supported Full Arch Teeth Replacement
Jay L. Ajmo DDS, DABOI, DICOI
Since 1987, Dr. Jay Ajmo's Palm Beach Gardens, FL. the practice has evolved into focusing on dental implant surgery, dental implant restoration, full mouth reconstruction and cosmetic dental restoration under IV Sedation.
In 2011, Dr. Ajmo created the Teeth Next Day® protocol for full arch implant-supported teeth replacement. Dr. Ajmo was the first implant dentist in Florida to offer Permanent Implant-Supported Zirconia Implant Bridgework to his patients. Although zirconia is a great material to replace missing teeth, Dr. Ajmo believed a "One Solution fits all" approach didn't work for every patient.


​​​​​​​After treating so many patients with zirconia and much research, Dr. Ajmo expanded the Teeth Next Day® protocol to offer his patients options in permanent implant bridgework. While all other teeth replacement centers still offer only one permanent bridge option for every single patient, Teeth Next Day® is the only brand to offer their patients choices in permanent implant-supported teeth.

Most teeth in a one-day dental implant center place all teeth on only four 4 dental implants, which is the bare minimum. While all other centers offer ONLY ONE SOLUTION TO EVERY SINGLE PATIENT, Teeth Next Day® is the only full-arch teeth replacement design that gives you options for permanent teeth. If you want to get it done right in one time, the clear option and the best choice is Teeth Next Day®.

​​​​​​​Dr. Ajmo understands that his patients are looking for a dentist they can trust with their smile and that knows that oral health and appearance are important to all his patients. Patients across South Florida and the United States choose Dr. Ajmo for his years of expertise and the highest level of care that he and his team deliver to each and every individual they treat.
Jay L. Ajmo DDS, DABOI, DICOI
Doctor of Dental Surgery, Emory University School of Dentistry,1986
Board Certified, American Board of Oral Implantologists
Board Certified, International Congress of Oral Implantologists
Diplomate, International Dental Implant Association
Mastership, Misch International Implant Institute
Masters, Rosenthal Institute for Cosmetic Dentistry
Member, American Academy of Cosmetic Dentistry
Member, American Society of Dental Anesthesiologists
Intravenous (IV) Sedation trained - Albert Einstein College of Medicine
Your Teeth Next Day® Team
Lisa LaBelle
Practice Manager
Shayla
Patient Coordinator
Ashley
Registered Dental Hygienist
Jennifer
Registered Dental Hygienist
Bricey
Expanded Functions Dental Assistant
Courtney
Expanded Functions Dental Assistant
Daisy
Expanded Functions Dental Assistant
Your Teeth Next Day® Team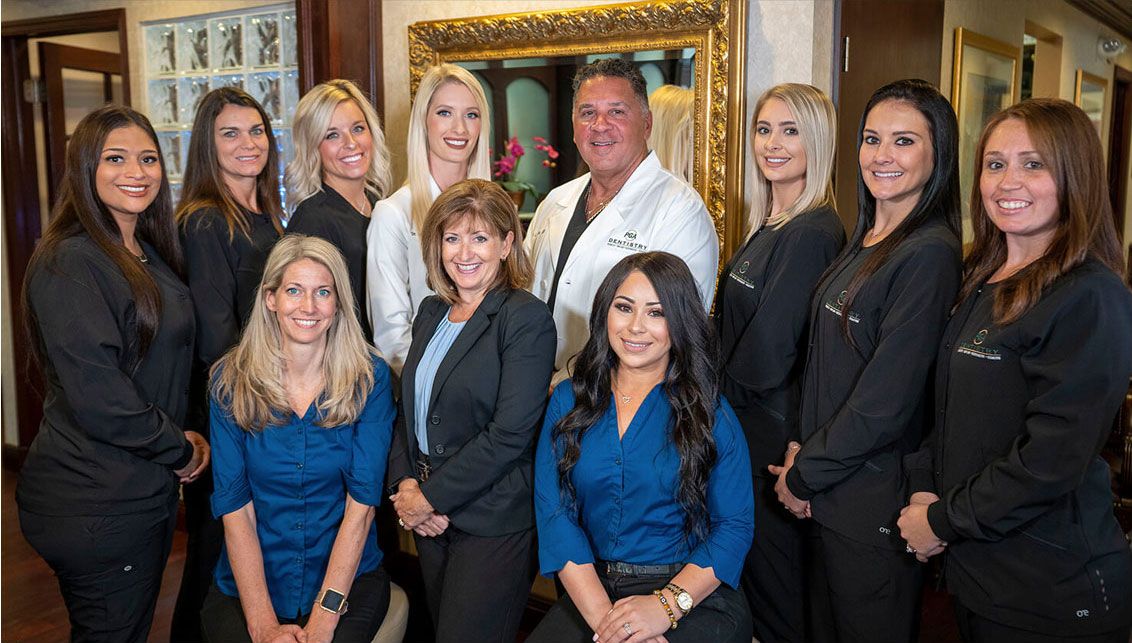 Complete Care in
One State-Of-The Art Facility
Our leading-edge facility is uniquely designed to surgically place and restore dental implants in one location, so you don't have to visit multiple offices to have your treatment completed. Our proven techniques take less time than many other dental implant procedures, so there are less discomfort, less swelling, and faster healing.
Our professional team is highly trained and skilled in delivering Teeth Next Day® procedures to our patients. We're committed to delivering the highest standard of dental implant procedures with your total comfort and satisfaction in mind.
We welcome you to come visit our office for a no-obligation complimentary consultation where you'll have the opportunity to meet Dr. Ajmo and our team. We will take the time to make sure you fully understand all your options in permanent teeth replacement and answer all of your questions about Teeth Next Day®.
Complimentary Consultation
or 2nd Opinion
Includes:
Exam
Full Mouth X-Rays
Digital Smile Photo Session
Private Consultation with the Doctor