Complimentary Consultation or 2nd Opinion
Includes:
• ​​​​​​​Exam
• Full X-Rays
• Digital Smile Photo Session
• Private Consultation with the Doctor
Solve Your Dental Problems Forever with
Teeth Next Day®!
Do you feel like your teeth are holding you back in your personal or professional life?
Do you hate having your photograph taken or avoid smiling?
Are bad teeth and dental infections causing you pain or embarrassment?
Are you putting your life on hold because of failing and missing teeth?

​​​​​​​Teeth Next Day® will eliminate all dental diseases and transform the appearance of your teeth, giving you a permanent smile you'll be proud to show off the next day. Get your life back with Teeth Next Day®!
Michelle suffered with very poor dental health. Her fear of the dentist caused her to avoid going to the dentist all of her adult life, so unfortunately none of her remaining natural teeth were able to be salvaged. Michelle underwent Teeth Next Day*and Permanent Nanoceramic Implant Bridges on her upper and lower jaws. All of her treatment was performed under IV sedation. Now Michelle never has to worry about bad teeth ever again. Her smile makes her look healthier and so much happier. 
I suffered for years with bad teeth and I didn't know who to trust. Once I learned about Teeth Next Day*, I figured I'd go in for a free consultation and learn more about it. After spending time with the doctor and staff, I began to get more relaxed and confident about the procedure. I'm so happy I did this and I would do it again if I had to. Everyone took great care of me and I felt no discomfort throughout the process. Thanks!
Michelle - Teeth Next Day® Patient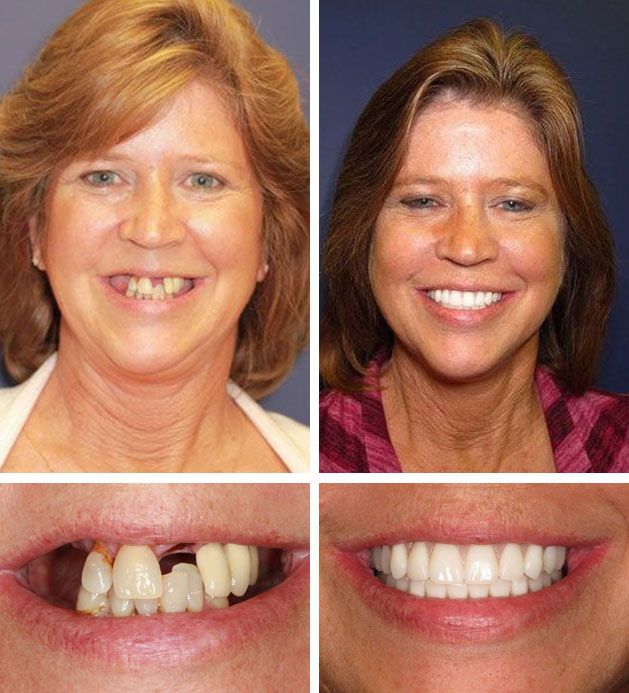 Whereas most dental implant centers use Acrylic teeth and plastic gum tissue to create their permanent implant bridgework, Teeth Next Day® uses the strongest, most natural materials available in modern dentistry for full-arch teeth replacement.
While most teeth in a one-day dental implant centers place all teeth on only four 4 dental implants, which is the bare minimum, they all offer ONLY ONE SOLUTION TO EVERY SINGLE PATIENT, it's clear that the best choice is Teeth Next Day®. If you want it done right in one time, the clear option and the best choice is Teeth Next Day®.
​​​​​​​
All other implant centers provide only one solution for each and every patient they treat. You have no choice! Everyone gets the exact same type of teeth. Teeth Next Day® is the only full arch dental implant solution that gives you several options for permanent teeth. You should make sure you understand all your options before undergoing a permanent procedure like full-arch teeth replacement.

is the only Dental Implant Solution
that provides several options for Permanent Teeth Replacement.
Teeth Next Day®
vs
Other Implant Centers
Customized treatment for each individual patient

Exact same lieatment for every patient

Choice of options for permanent teeth

Only one option available

Custom designed teeth just for you

Many centers use premade teeth

Quality materials that last decades

Teeth made of acrylic which stain & crack

6 dental implants per arch in most cases

Only 4 implants in most cases

American made Biohorizons Implants

Many centers use cheap foreign implants

Personalized attention to each patient

Like a factory lieating volumes of people quickly

We offer a 5-year guarantee

No guarantee
Avoid the devastation of missing teeth and sub-standard solutions
The impact of tooth loss can be devastating. Not only does it affect confidence and self-esteem, but it destroys the function of your teeth and your ability to chew food properly, so you aren't nourishing your body properly. It can even hinder your ability to digest food. While conventional replacements such as removable acrylic dentures are available, they often leave patients frustrated and unhappy. Teeth Next Day® resolves these issues and leaves you with a smile that you'll want to show off everywhere. You might be wondering how it's possible to transform your smile the next day. Keep reading to learn how this revolutionary treatment works.
Before We Start
Initially, before the preparatory work for your new smile takes place, we'll do a full review of your medical history, a discussion of your prior dental experiences and a complete dental examination. The first aspect of your Teeth Next Day® process will incorporate a 3D CT scan of your jaws to assess the overall condition of your mouth and determine your suitability for the procedure. This process will involve assessing the quality and density of your jawbone for supporting the implants. Then our expert team will explain the various options for permanent teeth and help you customize how your healthy new smile will look.
Complimentary Consultation or 2nd Opinion
Includes:
• ​​​​​​​Exam
• Full X-Rays
• Digital Smile Photo Session
• Private Consultation with the Doctor
The First Day
Our Team will completely relax you with IV sedation before administering a local anesthetic, so you won't feel any discomfort or experience any anxiety during your treatment. Once you are completely comfortable and sedated, your failing teeth will be removed, all pathology and infection will be eliminated and your dental implants will be precisely placed. In many cases, bone grafting occurs at the same time as implant placement. Models of your implants will be taken so that your new smile will be ready to fit perfectly on your implants. While you are still sedated, medication will be administered to keep you totally numb and comfortable before you go home and rest. Depending on which permanent option you choose, you'll return in one or two days to receive your beautiful new set of teeth.

Overnight, your Cosmetically characterized Teeth Next Day Bridge is custom-designed to specific specifications, then it's digitally milled for precision fit, long term strength, and long-lasting beauty

The Next Day
Within a day or two, you will be fitted with your new teeth. Dr. Ajmo will ensure that the size and fit are correct, comfortable and aesthetically pleasing. The final result should fit you comfortably, function well and look great.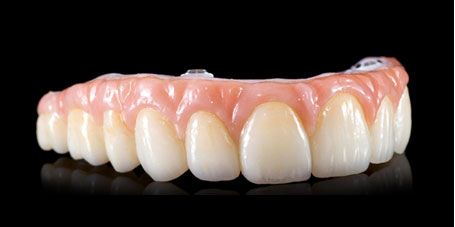 Our patients are usually amazed at how comfortable they are right after treatment and they're always ecstatic about their new smile. Because we administer long-lasting analgesic pain killers through the IV line, patients leave our office with absolutely no pain or discomfort. Some patients choose to take a prescribed analgesic for a few days after surgery, but many patients only take Advil or Tylenol.
While most teeth in a one-day dental implant centers place all teeth on only four 4 dental implants, which is the bare minimum, they all offer ONLY ONE SOLUTION TO EVERY SINGLE PATIENT, it's clear that the best choice is Teeth Next Day®.
If you want it done right in one time, the clear option and the best choice is Teeth Next Day®.
Bruce had loose teeth that were shifting over time. He had an advanced periodontal disease and was losing bone in his jaws rapidly. He knew the problem had to be addressed and was also concerned how his dental disease was affecting his heart. After discussing his options, he chose to have Teeth Next Day® performed with permanent zirconia implant bridgework. He wanted the brightest smile possible and wanted strong secure teeth that would feel comfortable.
Thank you , Dr. Ajmo for giving me a gorgeous smile and the ability to eat whatever I want.
Bruce - Teeth Next Day® Patient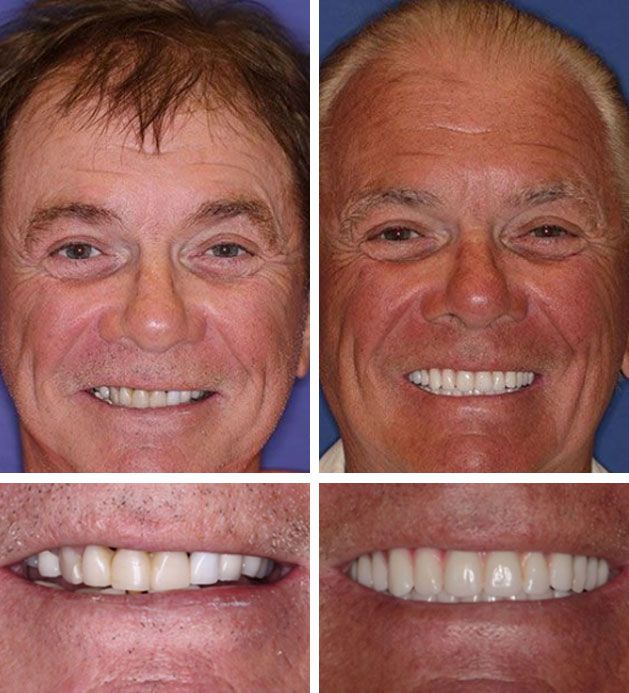 Restore your confidence and rejuvenate your life with
Teeth Next Day®
Patients Love our Doctors!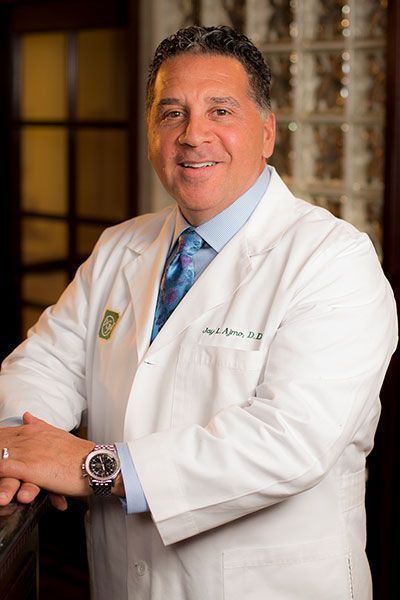 Dr. Jay L. Ajmo DDS, DABOI, DICOI
Board Certified, American Board of Oral Implantologists
Board Certified, International Congress of Oral Implantologists
Diplomate, American Dental Implant Association
Mastership, Misch International Implant Institute
Masters, Rosenthal Institute for Cosmetic Dentistry
Member, American Academy of Cosmetic Dentistry
Member, American Society Dental Anesthesiology
Intravenous (IV) Sedation trained, Albert Einstein College of Medicine
If you have further questions about the procedure to obtain Teeth Next Day®, or if you would like to schedule
an appointment with Dr. Ajmo, please contact our offices today at 561-448-9800.
Complimentary Consultation
or 2nd Opinion
Includes:
Exam
Full Mouth X-Rays
Digital Smile Photo Session
Private Consultation with the Doctor