Complimentary Consultation or 2nd Opinion
Includes:
• ​​​​​​​Exam
• Full X-Rays
• Digital Smile Photo Session
• Private Consultation with the Doctor
Teeth Next Day® Will Improve Your Life!
Many patients who suffer from missing teeth or major dental problems are self-conscious about their appearance and often choose to avoid social or professional situations because of embarrassment. What they often don't realize is that poor oral health affects their overall physical well-being.
Over and over again, we see people who want to be rid of the pain & suffering they experience from bad teeth and poor dental health. They want to eat again and enjoy a nice meal without pain or embarrassment. They want to be able to look someone in the eye and smile with confidence. They want to feel comfortable meeting new people or getting close to their friends and loved ones without the shame of an unhealthy mouth and unattractive teeth.
Cecilia
Cecilia had periodontal disease that was eating away bone and causing her teeth to shift. She lost so much bone that none of her teeth could be saved. Cecelia didn't ever want dentures and wanted teeth that never have to come out. It was important to her to save as much bone as she could and have a healthy smile that looked natural and beautiful. Upper and lower permanent Nanoceramic Implant Bridges were custom-designed for Cecelia to complement her face and give her a beaming smile she can be proud of. Her dental implants will help preserve the bone she has left in her jaws so her face maintains its fullness.
I researched all my options for permanent implant teeth on the internet & Teeth Next Day* looked like one of the best. Once I met Dr. Ajmo and his team, I knew I was in the right place. Everyone treated me special and they made sure I completely understood my options. I'm so glad I made the right choice!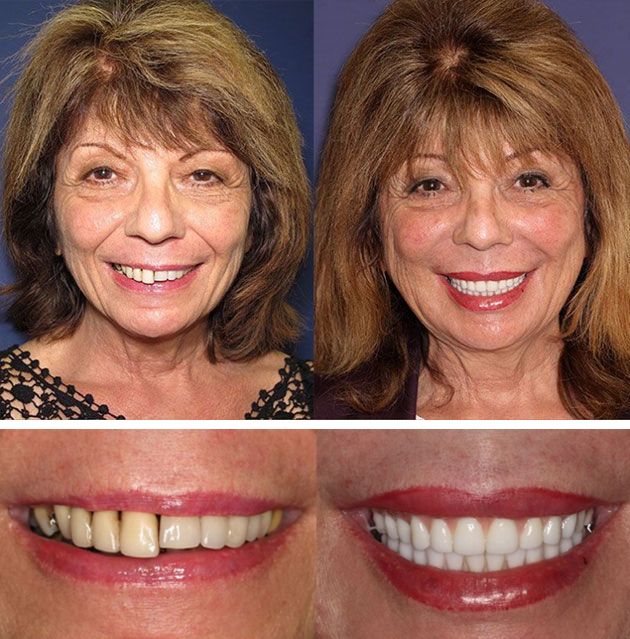 Teeth Next Day® Is the Only Dental Implant
Solution that Gives You Options in Permanent Teeth
Teeth Next Day® is a revolutionary solution for people who are struggling with poor dental health, have failing dental work or are missing multiple teeth. Tooth loss not only affects your ability to eat, drink and speak properly, but it can also affect your self-esteem and your relationships in life.
While most teeth in one day or all on four 4 dental implant centers offer ONLY ONE SOLUTION TO EVERY SINGLE PATIENT, TEETH NEXT DAY GIVES YOU OPTIONS FOR PERMANENT TEETH. If you want to get it done right in one time, It's clear that the best choice for permanent implant-supported teeth is Teeth Next Day®.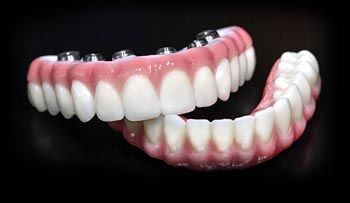 Nanoceramic
Implant Bridge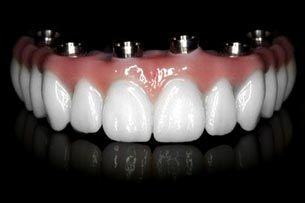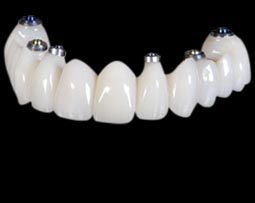 All Teeth Next Day®
Permanent Implant Bridges
are Made with Strong Tooth-Colored Materials,
​​​​​​​Not Acrylic Like Most Other Implant Centers
Acrylic bridges used by most implant centers have a tendency to discolor, crack and break over time. Teeth Next Day® permanent restorations are made of either Zirconia, Ceramic or durable Porcelains, so your smile will be strong and stay beautiful for many years. Teeth Next Day® is one of the most successful implant-supported treatments in the dental field today.


Complimentary Consultation or 2nd Opinion
Includes:
• ​​​​​​​Exam
• Full X-Rays
• Digital Smile Photo Session
• Private Consultation with the Doctor
Naturally Beautiful Aesthetics
Offering the esthetic beauty of ceramics and porcelain, the durable Teeth Next Day* Bridge will be naturally resistant to stains, discoloration or odors. Custom designed to complement your unique facial features, the Teeth Next Day* Permanent Implant Bridge will make your smile look incredible!
Jerry
Jerry is a firefighter and has always been extremely fearful of the dentist. He lost all of his back teeth and his front teeth were broken and hopeless. His wife encouraged him to have his teeth fixed after learning about Teeth Next Day® and IV sedation. Jerry was able to have all his failing teeth removed, dental implants placed and his teeth replaced under IV sedation. Permanent zirconia bridgework was customized to give Jerry a smile he could be proud of.
I was very self-conscious about how I looked and I was afraid of the dentist, so I kept putting it off. When I learned about Teeth Next Day* and the Zirconia Implant Bridge, I knew that's what I wanted. The sedation worked wonders and I did great. Now when I see someone I haven't seen in a while, they tell me I look so much younger and ask me what I did. It's a great feeling to feel comfortable talking to people. I would do it all over again!
A Permanent Teeth Replacement Solution
The leading-edge Teeth Next Day® technique offers a permanent solution to failing and missing teeth that will look, feel and function like real teeth. Teeth Next Day* Permanent Implant Bridgework is securely attached to your new dental implants, so you never need to take it out. You can never get a cavity and it will look like real teeth, so you can smile with confidence, eat what you like and live your life to the fullest. Say goodbye to the frustration and embarrassment of ongoing dental problems, toothaches, bleeding gums and an unattractive smile. Learn to smile again with Teeth Next Day®!
Superior Function and Strength
While there are several options available for patients with missing teeth, all Teeth next Day* Permanent Implant Bridges are proven to be extremely strong and durable. Securely attached to your dental implants, your beautiful new bridge will never move or slip out of place. Eat the foods you love and never worry again about failing teeth, tooth pain or loose dentures!
Teeth Next Day® uses the best technology for a stronger, more functional restoration. The Teeth Next Day® Permanent Implant Bridge provides unparalleled benefits over traditional implant-supported acrylic teeth. With Teeth Next Day®, you can walk into our office with failing teeth, and in one day, walk out with a brand new smile.
While most teeth in a one-day dental implant centers place all teeth on only four 4 dental implants, which is the bare minimum and they all offer ONLY ONE SOLUTION TO EVERY SINGLE PATIENT, TEETH NEXT DAY® OFFERS YOU A CHOICE IN PERMANENT TEETH. If you want to get it done right in one time, the clear option and the best choice is Teeth Next Day®.
Stop Jaw Bone Loss from
Failing Teeth or Wearing Dentures
Did you know that when teeth are lost or extracted, the jaw bone begins to shrink since there are no longer tooth roots to stimulate the jaw bone? When you bite down and chew with dentures, you place a lot of pressure and shock on the gums and jaws. This pressure accelerates bone loss, gradually changing the shape of your face.
As jaw bone loss progresses, the facial muscles become atrophied, forming loose-hanging "jowls." As the jaw bone becomes thinner, the chin starts to become more pointed and deep wrinkles form around the mouth making a person look much older than they really are. While dentures fill out the face some, you won't have a full idea of how much your face has changed shape until you look in the mirror after taking your dentures out.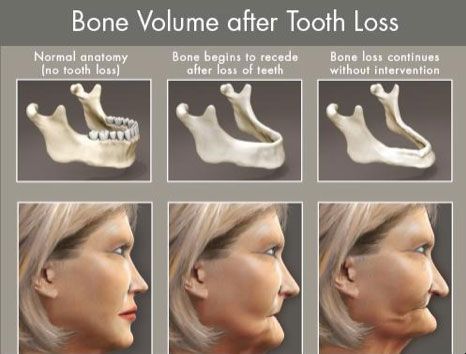 Look Decades Younger and
Feel So Much Healthier with Teeth Next Day®
Don't you deserve to look and feel healthy again? By eliminating all bad teeth and dental disease, then having an expert place dental implants in your jaws, bone loss from dental infections and disease will completely stop. Most of all, having a complete set of permanently attached teeth will make your entire face look much younger and healthier. You'll regain your confidence to speak with someone without covering your mouth to hide your teeth and you'll smile with confidence or even laugh out loud without being ashamed of how you look.
Linda
Linda lost most of her teeth over the years and knew she had to do something about it. She really didn't want dentures and like so many others, she hated going to the dentist. She wasn't sure what could be done, but her friend referred to our practice. Once she learned about Teeth Next Day® and IV sedation, she knew she could do it. Linda had her failing teeth removed, dental implants placed and Teeth Next Day® performed all under sedation. Now she smiles with confidence and is living her life to the fullest. 
I had major dental issues & knew I needed an expert to do it right the first time. After meeting with Dr. Ajmo & his team, I knew I was in the right place. Having my teeth & smile restored has completely changed my life. I can honestly say I'm so happy & it shows every time I smile. I can't thank PGA Dentistry enough.

is the only Dental Implant Solution
that provides several options for Permanent Teeth Replacement.
Teeth Next Day®
vs
Other Implant Centers
Customized treatment for each individual patient

Exact same lieatment for every patient

Choice of options for permanent teeth

Only one option available

Custom designed teeth just for you

Many centers use premade teeth

Quality materials that last decades

Teeth made of acrylic which stain & crack

6 dental implants per arch in most cases

Only 4 implants in most cases

American made Biohorizons Implants

Many centers use cheap foreign implants

Personalized attention to each patient

Like a factory lieating volumes of people quickly

We offer a 5-year guarantee

No guarantee
HOW TO FIND THE BEST
Implant Dentist to Replace Missing Teeth
Highly Experienced Doctor and Team
Jay L. Ajmo DDS, DABOI, DICOI
Dr. Jay Ajmo is the exclusive provider of Teeth Next Day® treatment in Palm Beach Gardens. He has over 30 years of experience as a dental implant provider and is one of only 400 Board Certified Dental Implant Surgeons worldwide. He's a Diplomate of The American Board of Oral Implantologists, a Diplomate of The International Congress of Oral Implantologists and a Diplomate of the American Dental Implant Association.
Dr. Ajmo and his team have transformed countless lives with the most up to date techniques in Implant Technology. Our state-of-the-art facility is equipped with all of the technology needed for you to get in-and-out with your brand new teeth and start enjoying living your life again.


Doctor of Dental Surgery, Emory University School of Dentistry,1986
Board Certified, American Board of Oral Implantologists
Board Certified, International Congress of Oral Implantologists
Diplomate, International Dental Implant Association
Mastership, Misch International Implant Institute
Masters, Rosenthal Institute for Cosmetic Dentistry
Member, American Academy of Cosmetic Dentistry
Member, American Society of Dental Anesthesiologists
Intravenous (IV) Sedation trained - Albert Einstein College of Medicine
Is Teeth Next Day®The Right Solution for You?
Have you been suffering from failing or missing teeth or struggling with major dental problems? Are bad teeth affecting your work or personal life? Is an unattractive smile holding you back in your relationships with friends or loved ones? Is poor oral health affecting your overall health and well-being?

If you answered 'Yes' to any of these questions, Teeth Next Day® may be right for you. If you are facing major restorative dental work, or have tried other options that failed, Call Us Today for a Complimentary Consultation!
Complimentary Consultation
or 2nd Opinion
Includes:
Exam
Full Mouth X-Rays
Digital Smile Photo Session
Private Consultation with the Doctor