Complimentary Consultation or 2nd Opinion
Includes:
• ​​​​​​​Exam
• Full X-Rays
• Digital Smile Photo Session
• Private Consultation with the Doctor
Teeth Next Day®
Nanoceramic Implant Bridge: Permanent
Teeth and a Beautiful New Smile in 48 Hours
Is your old dental work failing and leaving you with what feels like a hopeless situation?
Are you struggling with ongoing dental problems such as dental infections, toothaches, loose teeth, and bleeding gums?

​​​​​​​Look no farther than Teeth Next Day® dental implant solutions, the only full arch implant supported design where you have options in permanent teeth. All other dental implant centers treat each patient exactly the same, offering ONLY ONE SOLUTION for every single person treated. What that means for you is that you get absolutely no say in what kind of teeth you end up with. Don't you think you deserve a choice in how your new teeth look and feel?
Michelle suffered with very poor dental health. Her fear of the dentist caused her to avoid going to the dentist all of her adult life, so unfortunately none of her remaining natural teeth were able to be salvaged. Michelle underwent Teeth Next Day*and Permanent Nanoceramic Implant Bridges on her upper and lower jaws. All of her treatment was performed under IV sedation. Now Michelle never has to worry about bad teeth ever again. Her smile makes her look healthier and so much happier. 
I suffered for years with bad teeth and I didn't know who to trust. Once I learned about Teeth Next Day*, I figured I'd go in for a free consultation and learn more about it. After spending time with the doctor and staff, I began to get more relaxed and confident about the procedure. I'm so happy I did this and I would do it again if I had to. Everyone took great care of me and I felt no discomfort throughout the process. Thanks!
Michelle - Teeth Next Day® Patient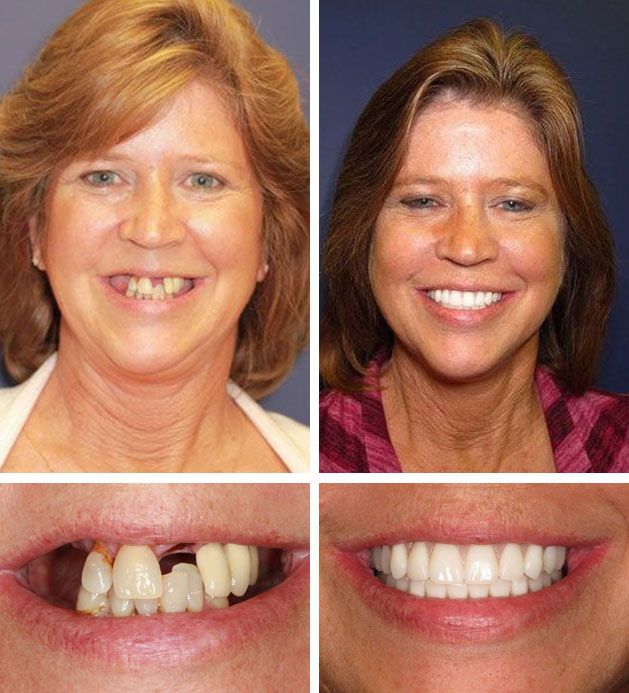 Leading Edge Technology in Permanent Teeth
Nanoceramics is the newest, most advanced dental material used in full-arch implant-supported teeth. This beautiful, space-aged material is comprised of durable high gloss ceramics infused with a specialized resin allowing the nanoceramic material to slightly flex like real teeth. This material is so much more durable than most other materials, yet is lightweight and comfortable, so you'll feel like you have your own teeth. The Nanoceramic Implant Bridge is supported by 6 dental implants and is permanently placed 48 hours after implant surgery.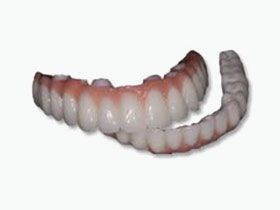 The Nanoceramic Implant Bridge is fabricated on a super-strong, lightweight Trilor bar, not an old- fashioned dark metal bar like some other options. Trilor is tooth-colored, making it blend perfectly with the Nanoceramic material, so you'll never see dark metal showing through your new implant bridge. Prior to the introduction of Trilor, labs used old-fashioned dark metal bars which were very stiff and heavy, transferring excess forces to the implants. These outdated metal bars require an opaque material bonded around the bar to hide the darkness of the metal from showing through the bridge. These opaque materials frequently become unbonded from the metal bar, resulting in complete failure of the bridge. Could you imagine going through an entire procedure and have it fall apart a year later?

Nanoceramic Bridge with Trilor Bar
Teeth Next Day® Nanoceramic Implant Bridge Uses a Space Aged Trilor Bar that is Super Strong, Lightweight and Tooth Colored, Guaranteeing Supreme Esthetics and Long Term Durability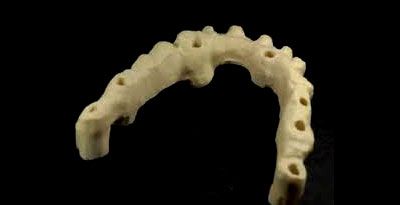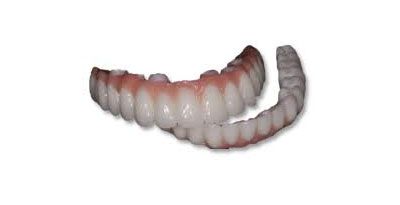 Other Implant Designs


with Metal Bar
Other designs use dark metal bars that are heavy and don't bond properly to nanoceramics. Ultimately these designs could fracture or break over time.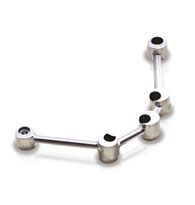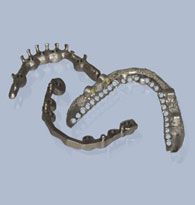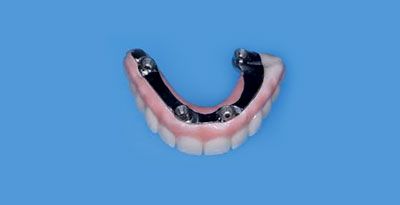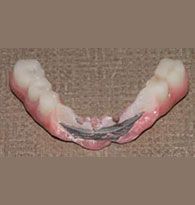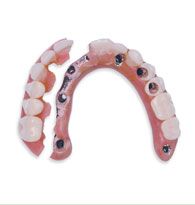 Bruce had loose teeth that were shifting over time. He had an advanced periodontal disease and was losing bone in his jaws rapidly. He knew the problem had to be addressed and was also concerned how his dental disease was affecting his heart. After discussing his options, he chose to have Teeth Next Day® performed with permanent zirconia implant bridgework. He wanted the brightest smile possible and wanted strong secure teeth that would feel comfortable.
Thank you , Dr. Ajmo for giving me a gorgeous smile and the ability to eat whatever I want.
Bruce - Teeth Next Day® Patient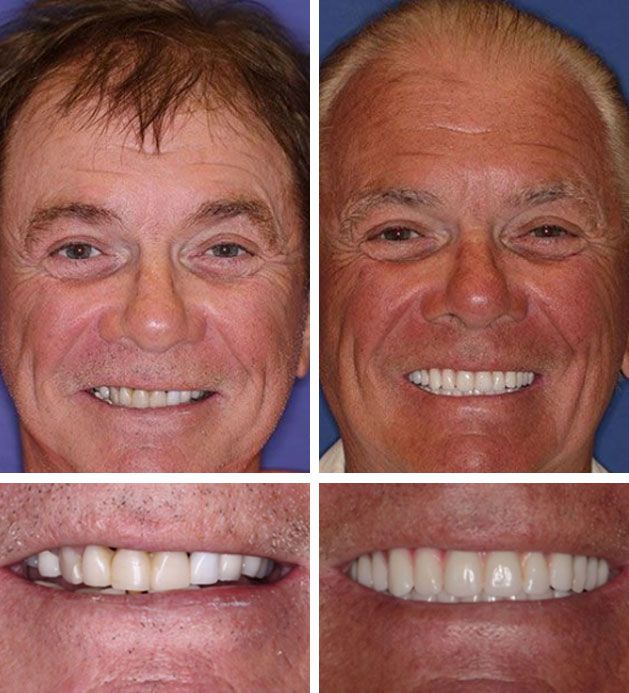 is the only Dental Implant Solution
that offers Options for Permanent Teeth
Nanoceramic

Implant Bridge

Zirconia

Implant Bridge

Porcelain

Implant Bridge
5-6 implants

5-6 implants

6-8 implants

Attractive esthetics

Attractive esthetics

Premium level of esthetics

No temporary needed

Temporary teeth in 24 hours

Temporary teeth the same day

Permanent Teeth in 48 hours

Permanent Teeth in 3 months

Permanent Teeth in 3 months

Pink flange mimics gum tissue

Pink flange mimics gum tissue

No pink flange, only teeth

Slightly thicker than real teeth

Slightly than real teeth

As thin as real teeth

Some speech adjustment

Some speech adjustment

Usually no speech adjustment

Lightweight

Heavy

Extremely lightweight

Slight flexing while chewing

Extremely rigid

Moderately rigid
The Nanoceramic Bridge in custom Designed and Fabricated in our state-of-the-art dental implant lab.
This leading-edge design in dental implant bridgework is custom designed and milled in our specialized dental implant lab. Each bridge is customized for each individual patient, so there's never a "one size fits all" approach. Our expert technicians design and mill each Nanoceramic Bridge to very specific standards for a perfect fit, long term strength and superior esthetics. Nanoceramics will hold up over years of biting and chewing meals, so you can enjoy all the foods you love without the worry of fractures or broken bridgework.

Most implant centers support their bridges on only four dental implants to support a full arch of teeth, which is the absolute bare minimum. If one implant is compromised or fails, you are out of luck. You have to start all over. Do you really believe using the minimum number of implants will last over years of biting and chewing hard foods? Most Teeth Next Day options use 6 implants, ensuring a strong durable set of teeth designed to last decades and possibly the rest of your life.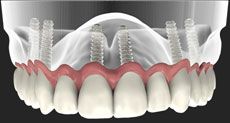 When you Compare Teeth Next Day® to Other Dental Implant Designs like "All on Just Four 4" implants, "Teeth in Just a Day", "Only One Solution" and "Done in Just One", there's no question, the clear choice in teeth replacement is Teeth Next Day®.

is the only Dental Implant Solution
that provides several options for Permanent Teeth Replacement.
Teeth Next Day®
vs
Other Implant Centers
Customized treatment for each individual patient

Exact same lieatment for every patient

Choice of options for permanent teeth

Only one option available

Custom designed teeth just for you

Many centers use premade teeth

Quality materials that last decades

Teeth made of acrylic which stain & crack

6 dental implants per arch in most cases

Only 4 implants in most cases

American made Biohorizons Implants

Many centers use cheap foreign implants

Personalized attention to each patient

Like a factory lieating volumes of people quickly

We offer a 5-year guarantee

No guarantee
If you're looking for the best option available in permanent teeth replacement, you owe it to yourself to look at ALL YOUR OPTIONS. Don't buy into the false idea that there's ONLY ONE SOLUTION to your dental problems. Discover Teeth Next Day, the only full-arch teeth replacement design that gives you options in permanent teeth.
Complimentary Consultation
or 2nd Opinion
Includes:
Exam
Full Mouth X-Rays
Digital Smile Photo Session
Private Consultation with the Doctor